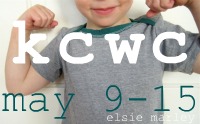 I've been meaning to write a post about this since I saw it a week or so on the Elsie Marley blog.  Do you know about Kids Clothes Week Challenge?  You commit to working on sewing kid's clothing for at least one hour a day for a week - the week of May 9th specifically.  I participated in this for the first time last fall, and it's what really got me hooked on sewing kid's clothes.  I don't think I've stopped sewing for an hour a day since then.
Apparently, some people have a whole strategy around this week like doing all the drafting, cutting, shopping, etc. well in advance.  Are you participating?  Do you have a strategy?  I can at least get on board with the shopping and deciding what I'm going to make.  I'm even getting to like cutting more than I used to.  I never thought I'd see the day.
Speaking of shopping, I have a great weekend planned with some great friends from college.  Alewive's is conveniently (kind of) on the way to where we're all meeting up.  I'm definitely stopping and dragging along my knitting friend who I'm carpooling with.  (Yeah, yeah, I know it's supposed to be "with whom I'm carpooling", but I really don't want to sound snobby.)  At least they do have yarn.
Anyway, I just wanted to make sure you knew about Kids Clothes Week Challenge.  If you want to read more, go check it out on the Elsie Marley blog.